About Crete
Wherever you decide to do your TEFL course, you are unlikely to find a more charming and beautiful location than Crete. From the life and vitality of the old town of Iraklion to the medieval mountain villages, from the sun-drenched sandy beaches with their all-year-round sunshine to the Minoan ruins of Knossos - Crete seems to offer everything. The wild landscapes of the interior and the majestically unspoilt trekking opportunities of the nearby Samaria Gorge make you forget sometimes that you are never more than a few miles from a palm-fringed beach.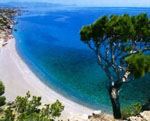 The largest of the Greek islands is cheaply and easily reachable by ferry from Athens. Just book a ferry in Athens and you'll be cruising across the Aegean en route to Chania's old port, where you'll be met on arrival and taken to your accommodation. Alternatively, there are a wide range of package deals available during the summer months which will take you to the island directly by air via Athens or other European cities, which is the fastest and easiest way to reach Chania.
Greece today is also the centre of the one of the largest TEFL-teaching markets in the world. With over 6,000 language schools (including many on Crete itself), the massive demand for qualified native-speaking teachers can allow a wonderful wealth of teaching opportunities. The network of boat services connecting the Aegean islands means that such other exotic locations as Rhodes, Santorini and Kos are all within cheap and easy reach.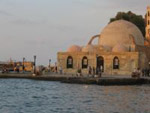 Weekends are free except for the course project and we run a variety of social programs to some of the most fascinating parts of the island of Crete. These include (but are not necessary limited to) a trek down the Samaria Gorge, visits to the beaches of Elafonisi, Falasarna and Gramvousa, trips to the Minoan ruins of Knossos (home of the Labyrinth and the Minotaur) and stays is one or more of the small villages on the South coast of the island where you can experience some more traditional Greek life, music, food and ambience is a relaxed and beautiful setting. All elements of the social program are of course optional.
We understand that it isn't always possible to answer every question you may have on our website. We also appreciate the difficulties people may have in reaching someone by telephone from different countries and time-zones all around the world. If you would like a member of our staff to call you at home at a time convenient to you and discuss any particular queries you may have before making a decision about where and whether you take a TEFL course, please just click the link below.